---
Donate to this site:
If you feel this website has been of use to you, please make a donation via the button below.
THANK YOU! For any contribution you make:
---
---
Webinars and Interviews with Alan Sharland, creator of the Communication and Conflict website.
If you would like to hold a webinar with Alan please make contact with him via his business CAOS Conflict Management in the UK.
There will normally be no fee for interviews however webinar presentations will involve a fee.
---
Conflict Coaching from CAOS Conflict Management
Here's a Handbook to help you practise more effective communication and to review and improve how you are responding to unresolved conflict: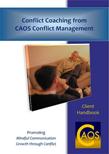 The CAOS Conflict Coaching Clients Handbook
Buy Now for just £4! or click on the image to find out more.
---
---
Click on the links below to find out more about Conflict Coaching provided by CAOS Conflict Management, the organisation through which Alan provides mediation, conflict coaching and conflict management training: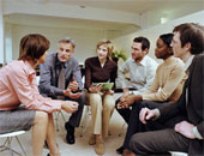 Conflict Coaching for Bullying
Attend CAOS Conflict Coaching Training and learn the skills to practise in this newly developing field of conflict resolution support.
---
---