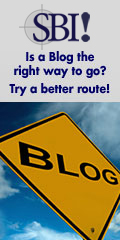 Don't believe me? Type in 'Communication and Conflict' in Google - see what I mean? It works for a few more as well - try 'Using I statements'.
So what do you get with SBI! that can enable that to happen?
With SBI! you get more than just a "site builder." You don't need to worry about looking for separate hosting, paying for a separate keyword research tool, handling site submissions, integrating autoresponders, etc., See the full list of features here.
Everything I have needed has come with the package.
I even find things that I didn't know about.
For example the other day I got an email from SBI! to tell me that one of my links had stopped working. Turns out they check them for you!!
I didn't realise. I'd changed the web address on a page I had edited and I'd missed a link to the page from another page. The link obviously didn't work now - and they let me know!
How often do you go to a website, click on a link and find that the page has an error message?
Not with SBI!
Page creation is as simple as riding a bike with its training wheels still attached. No need to know HTML. The block-by-block builder trains you how to write a page that is both "Search Engine and human effective." It's simple, do-able and most importantly, effective site-building. The block-by-block builder is perfect for beginners, but even many "advanced" users can start with this tool. It's an excellent way to break bad habits!
"Building a site with Site Build It! does not require any knowledge of HTML. In fact, I found building a site with Site Build It! was a very easy way to slowly get to grips with HTML coding. With Site Build It!, you simply include as much or as little HTML as you want."
~ Allan Gardyne
Rupert's SBI! Experiment

Since SBI! is compatible with popular HTML editors (ex., Dreamweaver) and image tools (ex., Photoshop, Flash, etc.), you can easily use advanced page-building techniques, if you like. This allows for maximum creative flexibility for all skill levels.
SBI! removes the technical barriers allowing you to keep your attention on building your business. Many functions are completely automated. You don't need to know anything upfront about building a Web site in order to succeed. The tedious, "under-the-hood" stuff is handled automatically so you can focus on other important business-building activities.
The Action Guide presents a step-by-step process, presented in both written and video formats. All you have to do is follow it. Really! The most successful SBI! owners say "all they did was follow the Guide." They don't get sidetracked, or have to guess at what to do next. SBI!'s guided approach helps you create a website you wouldn't have thought possible with such little prior knowledge.
The Business Case for SBI!
Too many non-SBI! sites start without profits being "built into" the process from DAY 1.
It all begins with the right process. Content

Traffic

PREsell

Monetize is the underlying, logical and powerful process that capitalizes upon the fundamental realities of how people use the Web.
C

T

P

M

puts you on a solid, profitable business foundation.
When it's time to create your site's Look & Feel, SBI! provides fully customizable, easy-to-use templates. You can choose and create a professional-looking presentation, even if you have no design skills. And if you're a designer, you can create and upload your own. This page shows a range of styles.
SBI! includes domain name analysis, optimization, and registration. You will develop the best name for maximum profitability in your niche. (It's often different to what you had planned.)
To announce your site to Search Engines, you need to submit a specialized file called a "Sitemap XML" file. SBI! does it all automatically, a huge time saver, that enables you to quickly achieve wider distribution and attract more targeted free traffic.
"SBI made it easy to learn how to optimize my pages for search engines. I quickly learned (actually SBI! took me by the hand and made the process "artist-proof"!) how to build traffic right into the content I was creating... as I created it."
~ Marney Makridakis
Artella Words And Art

Search Engine spider/listing/ranking reports let you see how your pages are being handled by the Search Engines. You can see what pages rank best and drive traffic.
Each report's insights help you to determine how to increase traffic and monetization. Most pros don't have easy and reliable access to this type of information. This page tells you about SBI!'s approach to generating website traffic.
SBI! includes Value Exchange (VE) for finding and managing high value inbound links (another criteria for ranking highly at the engines and building traffic). This automated inbound link-building tool saves time for what is otherwise a tedious time-sucker.
And what's more....
SBI! has a no-risk, 30-day money back guarantee. It's a risk-free decision that you can make with confidence and peace of mind.
The various HQs ("Traffic," "Tips 'n Techniques," "Resources," "Monetization" and several others) keep you on the cutting edge of all that you need to know. No other "outside reading" is necessary (except for info related to your own business, of course). There are membership sites that charge hundreds (even thousands) of dollars for this type of invaluable information.
There are also some incredibly useful free downloads to help you in understanding the best way to write for the web and optimise the ability of your website to reach as many people as possible while providing an excellent vehicle for publicising and profiting from your business.


The SBI! Community....
Now, I am a home schooling father of five, building a real business from home. SBI! gives me a global reach from my little town.
~ James Beane
TeaTreeWonders.com
The SBI! private forums provide friendly, helpful support from other Solo Build It! users. Help is available from folks who are in the same place as you. This peer-to-peer support gets you over the humps along the way in a stress-free environment.
Help is available even for advanced questions. The forums are a business-building support community ready to help you succeed.
SiteSell.com was established by Dr. Ken Evoy in 1997. His series of books have helped hundreds of thousands of entrepreneurs and small businesses. Make Your Content PREsell! and Make Your Words Sell!, formerly books sold by SiteSell, are now free. They are literally the dynamic duo of "Web-writing."
I hope this page has explained why I would recommend Solo Build It! to anyone who wants to build their own website and find a way of communicating their passion, hobby, business idea, talent or experience to the rest of the world.
Go for it! Order SBI! today. Remember, SBI! has a no-risk, 30-day money back guarantee. So if you are not happy with the product you can get your money back.
If you have any questions you want to address to Ken Evoy before you buy he is always happy to answer them. Click here to contact him.




So, Click Here to Build Your Own Website with Solo Build It!
Join our new 
ONLINE Introduction to Conflict Coaching Skills 
(6 x 2 hour sessions on Zoom)
Learn about the CAOS Model of Conflict Coaching, the first to be developed in the UK in 2008 and one that does not have to be connected to ongoing mediation but can be simply a 'stand alone' support service for individuals. 
Open to non-UK attendees - visit the link above for more details and to register your interest.
---